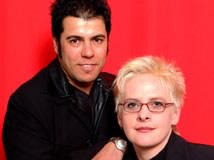 Robi and Jeanette
At PHD it is guaranteed that you will get a professional consultation and leave with the right look for you.
To book an appointment, scroll down to contact details below.
Look Out For The New Look PHD website soon!
Notice!!
PHD Hairdressing has moved to new premises! Now across the road from the old premises. Come view for yourself and experience excellence!
A perfect cut is the basis for
a perfect style, You'll see!
PHD hairdressing was founded in Melville over six years ago by owners, Robi and Jeanette Canha. Since then, they have relocated to Greenside, and on the 3rd August we moved into our new premises across the road.
PHD also boasts with its complimentary refreshment menu consisting of: Cappuccino, Espresso, Café late, Tea, Wines or Juices. At PHD, only the best products are used. This is the first company in the hairdressing industry to contribute a percentage of its sales towards environmental associations, and is manufactured of totally natural substances, to help the environment.